Blockchain: Background and Policy Issues
Chris Jaikaran
Analyst in Cybersecurity Policy
February 28, 2018
این مطلب که به حکمرانی بلاکچین پرداخته برای کنگره آمریکا نوشته شده است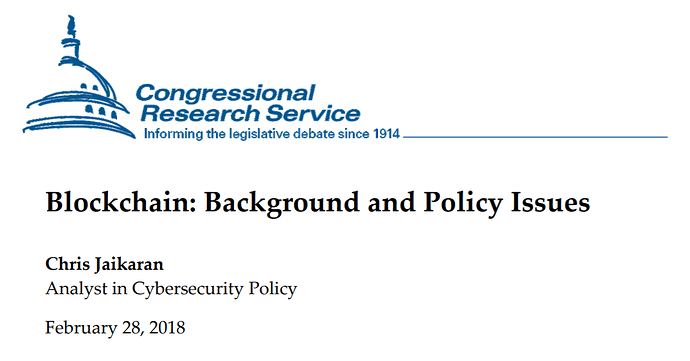 Summary
The rise of cryptocurrencies like Bitcoin and the use of Initial Coin Offerings to raise capital has
drawn increased attention from both the public and private sector concerning the use of digital
ledgers to conduct business (called blockchain technology) and its potential. Yet many remain
unclear on what the technology actually is, what it does, and the tradeoffs for its use.
A blockchain is a digital ledger that allows parties to transact without the use of a central
authority as a trusted intermediary. In this ledger, transactions are grouped together in blocks,
which are cryptographically chained together in a way that is tamper-proof and creates a
mathematically indisputable history.
Blockchain is not a new technology; rather it is an innovative way of using existing technologies.
The technologies underpinning blockchain are asymmetric key encryption, hash values, Merkle
trees, and peer-to-peer networks. Blockchain allows parties who may not trust each other to agree
on the current distribution of assets and who has those assets, so that they may conduct new
business. But, while there has been a great deal of hype concerning blockchain's benefits, it also
has certain pitfalls that may inhibit its utility.
With blockchain, as transactions are added, the identities of the parties conducting those
transactions are verified, and the transactions themselves are verifiable by other users. The strong
relationship between identities, transactions, and the ledger enables parties that may not trust each
other or an individual computing platform to agree on the state of resources as logged in the
ledger. With that agreement, they may conduct a new transaction with a common understanding
of who has which resource and their ability to trade that resource.
Blockchain is not a panacea technology. A blockchain records events as transactions when they
happen, in the order they happen, and in an add-on only manner. Previous data on the blockchain
cannot be altered, and users of the blockchain have access to the data on the blockchain in order
to validate the distribution of resources. Though there are benefits to blockchain, there are also
pitfalls and unsolved conditions which may inhibit blockchain use. Some of those concerns are
data portability, ill-defined requirements, key security, user collusion, and user safety. As with
adopting any technology, users must examine the business, legal, and technical aspects of that
technology.
Blockchain is currently being tested by industry, but at this time does not appear to be a complete
replacement for existing systems. Although the adoption of blockchain is in its early stages,
Congress may have a role to play in several areas, including the oversight of federal agencies
seeking to use blockchain for government business, and exploration of whether regulations are
necessary to govern blockchain's use in the private sector.
Some federal agencies are seeking to better manage identities, assets, data, and contracts through
the adoption of blockchain technology. In addition, some federal agencies are issuing guidance on
industry use of blockchain, and whether or not the current legal framework governs blockchain
use.
نسل جدید پورتال‌های داده مبتنی بر بلاکچین
کتاب The Blockchain and the New Architecture of Trust
ناشر: انتشارات دانشگاه MIT
Transparency Challenges in Blockchain
Paulo Fontana, Bruna Diirr, Claudia Cappelli
Transparency in Blockchain
Blockchain is a shared ledger that provides a growing record of all transactions that have already occurred in a specific domain. It represents a series of chained blocks in which, at each block, it is possible to access: (a) structured data about transactions; (b) creation date/time; and © reference to its previous block. This reference allows identifying these blocks order and navigating to the first element of the blockchain. Additionally, it ensures that information is protected from adulteration because any change leads to the reference modification. Moreover, a new transaction is only added to the blockchain after being validated by all nodes in this distributed ledger network. It allows the stored information reliability, besides real-time access to all transactions (Deshpande et al, 2017; Lin & Liao, 2017). All this shows the potential of blockchain to contribute to transparency, thus allowing governmental systems to combat public resources misuse, facilitate auditing process and avoid frauds (Ølnes & Jansen, 2017; Tapscott & Tapscott, 2016).
Despite this technology simplicity and its capability of opening reliable information, new
challenges may be imposed for its effective support to transparency in democratic environments.
Moreover, it is important to understand how transparent blockchain can be. For this, an analysis of this technology was made based on the characteristics presented in Figure 1(see Table 1).
Source:
Transparency Challenges in Blockchain.pdf (764.2 کیلوبایت)
, Paulo Fontana, Bruna Diirr, Claudia Cappelli,
Proceedings of the International Conference EGOV-CeDEM-ePart 2018-(page 193-200)
محصول جدید کمپانی Stefan Verhulst و برادران:

ایمیل دریافتی:
Dear all -

Several of you joined us in Lisbon at TicTec to review the potential and limitations of blockchain technologies - Pleased to let you know that we have now released our platform and field report that seeks to assess the promise, practice and limitations of Blockchain for Social Change: https://blockchan.ge/

Some more information below -

Eager to hear your reactions!

Best wishes

Stefaan

LAUNCH of New Platform and Field Report on Blockhange – Blockchain Technologies for Social Change

Blockchain technologies are a new form of data disclosure technologies that have received extensive coverage and attention because of their potential to transform (or "disrupt") industry sectors – ranging from financial services and publishing to supply chain management and real-estate. Additionally, blockchain is increasingly believed to be capable of positively empowering underserved populations in a myriad of ways – from improving service delivery for homeless people in New York City to bringing the "unbanked" into the global economy. As such, blockchain has been heralded as an avenue for creating positive social change, or "Blockchange."

Yet for all the enthusiasm, we know very little about how blockchain can actually impact social change — what kinds of applications can serve what needs, what technological attributes matter most, what risks are involved, and under what conditions blockchain can have maximum social impact.

Exploring Three Application Areas

Today, the GovLab is launching the Blockchange platform: a hub for research and evidence into blockchain's capacity to create social change. In particular, we are exploring the promise and practice of blockchain for creating societal benefits and addressing information asymmetries through three applications: improved identity management, smart contracting , and the ability to track and trace transactions. Blockchange features a repository of Curated Examples of projects that are actively seeking to leverage blockchain for social change across each of the these three areas, as well as efforts to create an ecosystem of blockchain use for societal benefit.

Focus on Identity

In addition, the platform provides access to our first Blockchange Field Report, which focuses on Blockchain's potential and limitation for trusted identity management.

Of the three types of Blockchange applications, identity should be considered foundational because it a) plays a prominent role in social change; b) underpins most other blockchange applications; and c) provides a necessary missing ID protocol layer of the Internet.

The field report, Blockchan.ge: Blockchain Technologies for Social Change – Field Report on the Emergent Use of Distributed Ledger Technologies for Identity Management, was developed through a yearlong exploration project supported by the Rockefeller Foundation. Our initial analysis centered on the current theory, practice and dominant narratives in the blockchain and identity spaces – and at the nexus of the two.

Operational Conditions

Blockchange also proposes a set of operational conditions for practitioners, providing guidance regarding "when to blockchain" – i.e., questions that, when answered affirmatively, can determine whether a Blockchange implementation is likely to be appropriate and successful. They include:

Problem

· Is there a clear problem definition?

· Do information asymmetries and high transaction costs incentivize change?

Data & Technology

· Are accurate and high-quality digital records available?

· Is there no availability of credible and alternative disclosure technologies?

Ecosystem

· Are there trusted intermediaries active in the space and does their efficiency (or lack thereof) incentivize change?

· Is there a level of cooperation (or 'co-opetition') among players?

Capacity

· Are the parties involved technology aware and data literate?

The GENESIS Principles

Finally, Blockchange generated, through consultation and research, a set of design principles ensuring that blockchain experimentation supports the public interest from the very first block: the so-called 'genesis' block of the blockchain. That is why, collectively, we call these the GENESIS principles.

· G overnance Legitimacy

· E thically Sound

· N ot Technology, But Solutions to Real Problems

· E cological Footprint

· S ynchronized with Existing Initiatives

· I nteroperability and Open Standards

· S ecuring First Block Accuracy

To learn more, visit Blockchan.ge or reach out to the co-authors of the Field Report: Stefaan Verhulst and Andrew Young.